WHAT SAFETY CULTURE AT FANTAIL MEANS
SAFETY IS A CORE PART OF EVERYTHING WE DO
Safety for our staff members and for the people we share our work environment with is paramount – nothing is more important.
Everyday starts with a safety briefing where all new hazards are identified and risk mitigation protocols are established.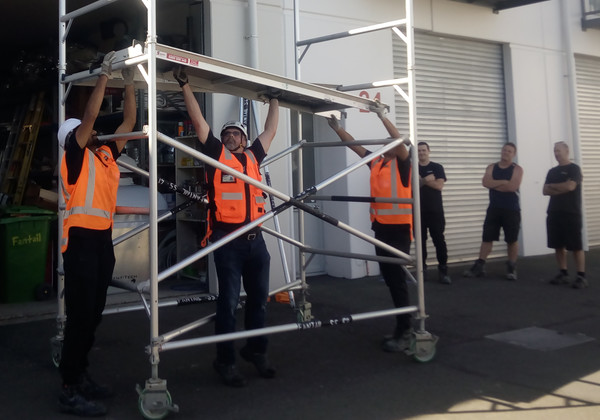 Scaffold training session conducted at the Fantail office by Site Safe representatives.
Some of the steps we take to ensure that safety is guaranteed for all people in our work environments:
Fantail Services works collectively with all staff members to increase staff wellbeing, workplace safety and culture
As part of the Site Specific Safety Plan (SSSP), a formal approach is taken to determine and anticipate potential hazards. The risks are assessed and safe work practices are defined to either eliminate or control the hazards
Specific task analysis and safe work method statements are also undertaken for high risk tasks and any new or complex tasks
Daily site safety meetings are held to discuss safety instructions, hazards, work practices and any other relevant information
Folders are maintained on all sites that keep details on personnel holding relevant safety qualifications
Site records are also maintained covering all the hazardous materials at each location and how to deal with them in emergencies
Fantail Sitewise Accreditation
Fantail Services is proud to have achieved SiteWise Green card status which reflects our focus and continued commitment to health and safety.
Our SiteWise grading means suppliers can evaluate our tender applications with confidence that site safety requirements will be fully satisfied.

From the SiteWise website:
"SiteWise is a prequalification system that grades a contractor's health & safety capability and publishes that grade in a database that can be viewed by main contractor's and principal organisations. This allows for better contractor selection and an easier tendering process for everyone involved."